Something happened tonight that I hoped never would. Noah fell out of his crib. I know it's not my fault, and I know things like this happen, but the fact that it happened just tears me up.

After I found him I just held him in my arms, and we both cried and cried (probably me more than him). He calmed down after I held him for a while, and then he decided he wanted to play. It made me feel better seeing him act like his normal self. I decided to let him stay awake until Josh came home from work tonight, so I could keep an eye on him, and also so Josh could lower his bed. What a busy boy he's been tonight. He even helped me do some laundry.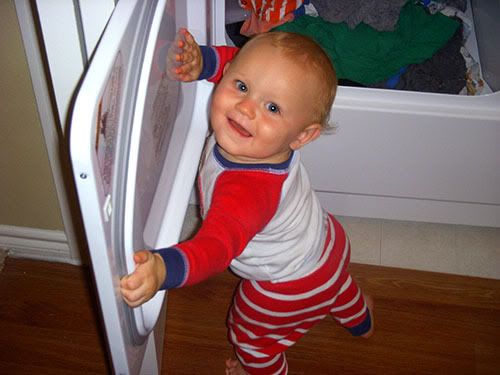 But Noah just couldn't make it until Daddy got home, he wore himself out and fell asleep on the living room floor.
Einstein was so concerned about Noah; he knew that something was wrong. At first, Einstein stood and watched over Noah as he played, and then when Noah fell asleep, Einstein sat by his side. When I went back in the living room to check on Noah, Einstein had found himself a snuggle buddy.
I am so thankful Noah is ok. Thank you Lord for protecting him. Sweet dreams little one.