Every summer my parents plan a family trip, and for the past three years we have gone to Mexico. We have been to Playa del Carmen, Cozumel, and Puerto Vallarta, and this year we had planned to go back to Playa del Carmen because it was our favorite of all the places we had been.
As you can imagine, we were all so excited, but sadly we had to cancel our trip. Right about the time we planned to go, there was so much going on in Mexico. There were Mexican drug wars going on, but we decided we would still go because the drug wars weren't even close to where we would be. Then the Swine Flu hit. We didn't want to take any chances, especially with Noah going with us, so we canceled. Bummer!

But what would our summer be without a family trip? My parents pulled together a trip to Branson, Missouri, and we all had SO much fun. We only wish Josh could have come with us, but since it was last minute, he ended up having to work. But Noah and I were happy we had the chance to go!


I was excited about our trip to Branson, but I was SO nervous about flying alone with Noah. Don't get me wrong. We have one of the happiest, most content babies ever, but flying with a baby is not easy, especially when you're doing it alone. But I thought to myself, "It will be ok, it's only one hour." So we said our goodbyes to Daddy and we were on our way to Branson!
As soon as Noah and I boarded the plane, we were greeted by the flight attendant. I was relieved because I was sitting on the single-seat row, so that meant Noah and I had a seat to ourselves! Yay. I wouldn't have to worry about Noah grabbing the wig of some poor woman sitting next to us, because
no one
would be sitting next to us. But as soon as we boarded, the oh-so-kind attendant informed me that I needed to find a seat in the two-seat row. What?! I wondered why I couldn't sit in the seat I had on my ticket, but I just said, "Ok" and sat down. I had too much going through my mind at that point, so I didn't even think about questioning her orders. I found out later only the two-seat rows have oxygen masks for infant/children. Thank you American Airlines. The poor woman with the wig thanks you too.
Despite my worries, Noah was such a good boy during his very first flight! He was as squirmy and active as any 10 month old would be, but I was so proud of him. Thankfully Daddy put two Baby Einstein movies on my iPhone to keep Noah busy. I owe Josh big time because Noah sat in my lap for
most of the flight watching the movies. I
love
this picture of Noah wearing Josh's earphones as he watches Baby Mozart. So precious!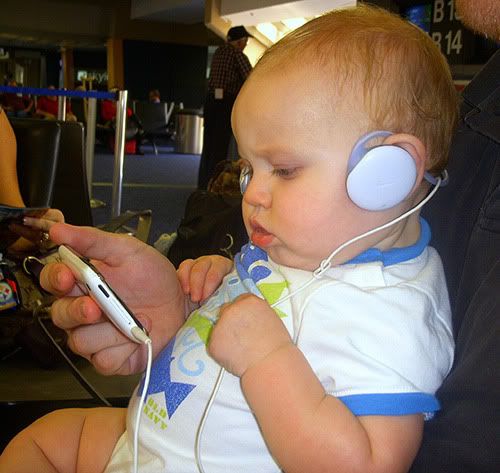 I was definitely drained of all my energy by the time we got to Springfield Airport, and I'm sure I was a site to see! But overall I think Noah's first flight went very smooth.

I'll continue tomorrow with our fun trip to Branson!