So, it seems Wednesdays are now my day of random thoughts. Warning: overload of randomness today!
A week from today Josh will be leaving on a mission trip out of the country. For two weeks. I'm so excited for him! He has been telling me a lot about his trip recently as he prepares to go, and it is truly going to be an awesome trip. I mean, what a blessing to have the opportunity to visit the other side of the world to reach the Deaf. But I gotta be honest here. I'm dreading next week when he leaves us. I cannot even imagine having my other half gone for that long. And I'm pretty sure Noah will be asking about his Daddy on a daily basis. :( Thank goodness for Skype!
I got something fun in the mail last week!
My new camera strap
! I found it on Pinterest recently and totally fell in love with it. It is quite lovely. The owner of the shop is only selling this design until she runs out of the fabric. So if you can't live without it, you better grab one before they're gone!
Did you see the video I posted recently of Noah talking on the phone? It really is the cutest thing ever. Click
here
if you missed it.
We've had a taste of Fall around here the last week or two with high 80's and low 90's; I'm getting quite spoiled. It has been wonderful! Like I can't even begin to tell you tired I am of the heat we've had this Summer. Come on cooler temps!!! And rain, you may visit as well. :)
I was so excited when I saw
this recipe
on Pinterest yesterday. Low fat spinach and artichoke dip!? Yes, please!!
My whole family is coming to visit this weekend. I'm so happy! Can't wait to spend some time with them! And I know Noah will be glad to see all of them too.
We've been reading more of Dr. Suess to Noah lately and he loves the stories. Josh gets into character when he reads to Noah, and it's quite comical. Anytime Josh talks as the Cat in the Hat, Noah says over and over again, "Scary!" Ha. While we were at Barnes and Noble a few days ago, we decided to get Noah another Suess book, so we bought
Horton Hears a Who
. I loved it! It's a little long for Noah at this point, but it is a wonderful story with a great message.
I need to start running again. Anybody there with me? I love the way I feel when I'm exercising, but I cannot seem to get myself going again. Motivation, where art thou?
Okay, I saw
the
cutest
Paul Frank
boxer briefs at Target the other day. I resisted buying them because a. Noah is not potty trained yet and b. given a choice between briefs and diapers, Noah picks diapers every time. Bummmmer.
Heard an interesting piece of information yesterday from my mother-in-law about the television cartoon SpongeBob SquarePants. Apparently studies are showing that just watching nine minutes of the cartoon causes short-term attention and learning problems in young children. Thankfully Noah has never watched that show. Craziness!
Here's the article
if you're interested in reading more about it.
For those of you who wanted to know how to use digital tape in Photoshop,
I posted a tutorial
yesterday. Let me know if you have any questions and have fun!
And a picture or two of my favorite little boy playing with Buzz. "To infinity and beyyyyond!"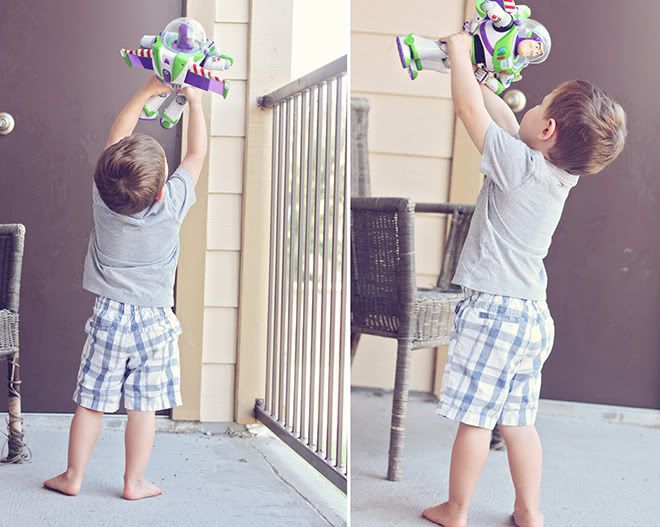 Happy Wednesday!